Courtesy University of Central Arkansas Athletics Department
The Central Arkansas Tennis program continued their season-opening road trip this weekend, traveling to Ruston, Louisiana to play two matches on Saturday before moving on to Monroe, Louisiana to play a match on Sunday.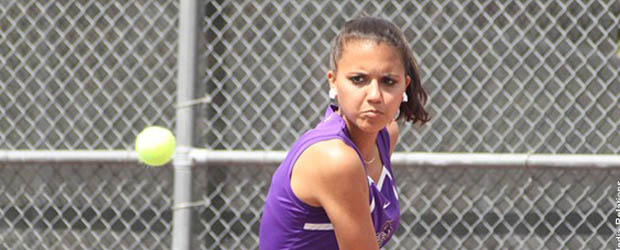 The Bears faced off against Louisiana Tech early Saturday afternoon, with the teams proving to be a good match for each other. In doubles play, Vivian ten Dolle and Manoela Chiacchio defeated UCA's Allison Murphy and Krizia Buck 8-4 in the first match. The second doubles match went to Tech, as Melanie Urvoy and Tally Merker defeated Simona Horsikyan and Sasha Ruocco by a score of 8-4. The Bears took the third doubles match when Kristina Horsikyan and Anna Buyukyan grabbed an 8-3 victory over Louisiana Tech's Alena Erofeyeva and Sophie Heldoorn, but the Lady Techsters were able to secure the point for doubles play.
In number one singles play, Ten Dolle defeated Simona Horsikyan 6-1, 6-1 to push the lead to 2-0, but Murphy's 6-1, 6-0 victory in number two singles put the Bears on the board. Louisiana Tech grabbed the next two matches, as Urvoy defeated Simona Horsikyan 6-3, 6-2 and Merker defeated Buck by a score of 6-2, 6-2. A hard-fought fifth match went to UCA's Ruocco, as she downed Erofeyeva 6-3, 2-6, 10-8, and Buyukyan took down Heldoorn 6-3, 6-0 in the final match, with Louisiana Tech edging out Central Arkansas by a final of 4-3.
Saturday evening, Central Arkansas battled Grambling State. The Bears came out firing, and could not be stopped on their way to a 7-0 sweep of the Lady Tigers. In doubles play, the teams of Allison Murphy/Krizia Buck and Kristina Horsikyan/Anna Buyukyan both picked up 8-3 victories, and the team of Bianca Strukelj and Stephanie Gonzalez-Valero scored an 8-4 victory.
In singles play, Simona Horsikyan, Kristina Horsikyan, and Buck collected 6-0, 6-4 victories, while Murphy picked up a 6-2, 6-0 win, and Gonzalez-Valero won in a 6-0, 6-0 sweep. Strukelj picked up a 6-1, 6-0 victory to bring the match to a close.
On Sunday, Central Arkansas travelled to Monroe, Louisiana to battle Louisiana-Monroe, who was looking for their seventh consecutive season-opening victory. The Warhawks gathered the doubles point, as Sophie Rufyikiri and Ema Turudija defeated Buck and Murphy 8-3, and Medy Blankvort and Justyna Krol handed Kristina Horsikyan and Buyukyan an 8-2 defeat. The third match, between ULM's Petra Horakova and Silvia Turnova and UCA's Simona Horsikyan and Ruocco did not finish.
In singles play, the Bears were able to grab only one point. Rukyikiri defeated Simona Horsikyan 6-1, 6-1 in number one doubles, Blankvort grabbed a 6-0, 6-2 victory over Murphy, and Turnova took down Kristina Horsikyan by a score of 6-3, 6-0. Buck was able to secure Central Arkansas' lone point of the day, as she defeated Turudija 6-4, 7-5. The Warhawks took the final two matches of the day, as Krol defeated Ruocco 6-2, 6-0, and Horakova took down Gonzalez-Valero 6-2, 6-0.
The Bears (1-4) return to the court on Saturday, when they travel to Dallas, Texas to battle Southland Conference foe Texas A&M-Corpus Christi (1-0). They then return to Conway for a three game home stand featuring matches against Murray State (Feb. 9), North Alabama (Feb. 10), and Nicholls State (Feb. 16).