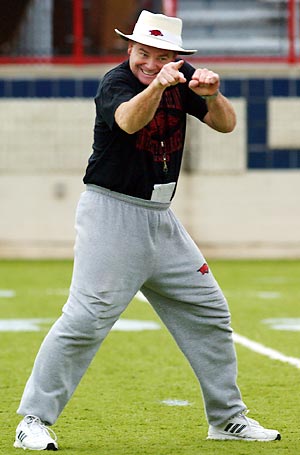 Today we read that Houston Nutt has interviewed for the position of running backs coach with the Dallas Cowboys.
We sincerely hope he gets the job. We think that he would fit right in at Valley Ranch.
As we said in our New Year resolutions piece, our life is poorer without Houston Nutt in it.
The Sports Desk has come across something written about Mr. Nutt that deserves to be shared.
We post it without comment, but we encourage yours.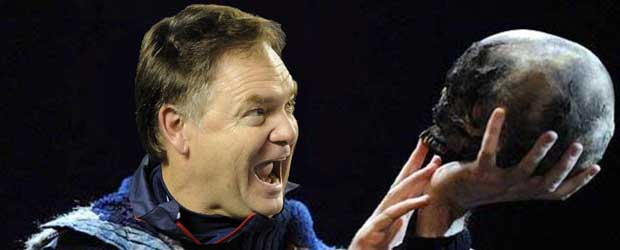 Houston Nutt: National Championship Under Construction!™
A Play in XV Acts
The Players:
Houston Nutt – A Football Coach
University of Arkansas – An Institute of Higher Education
University of Mississippi – A School in Mississippi
The Setting: 
Acts I – XI – Broyles Football Complex, Fayetteville, Arkansas;
Acts XII – XV – Somewhere in Mississippi
Act One: December, 1997
University of Arkansas: We wish to field a championship caliber football club!
Houston Nutt: I will coach your football club to glory and victory and championships!
UofA: We will pay you one million dollars per annum to do so!
Houston: I am living a dream!
Act Two: January, 1999
Houston: I am merely 3 plays from attaining national championships! Nevertheless, I am Coach Of The Year! Ha HA!
UofA: We are pleased to the utmost! You have exceeded our wildest hopes and aspirations! We will now pay you one and one half million dollars per annum!
Houston: This is as it should be.
Act Three: January, 2000
Houston: I have bested the mighty Longhorns of Texas in a football contest at the hallowed Bowl of Cotton in Dallastown!
UofA: We are beyond belief! We shower you with praise and adulation! Praise your name! We make gifts unto you and your blessed progeny unto perpetuity!
Houston: I am master of all I survey!
Act Four: January, 2001
Houston: I am beset on all sides by misfortune and incompetence! The shortcomings of Danny Ford have laid me low!
UofA: We are ever faithful rope holders!
Houston: National Championship Under Construction!™
Act Five: January, 2002
Houston: I am beset on all sides by misfortune and incompetence! The malfeasance of Ted Herrod has laid me low!
UofA: Yet our womenfolk enjoyed shopping in Dallastown once again! All is well!
Houston: I remain ever committed to improving my jump shot and the building of tall fences!
Act Six: January, 2003
Houston: As you can plainly see, the Arkansas Razorback football squad is mighty and strong and I am its leader! Pay no attention to those anomalies in Atlanta and Nashville!
UofA: You are indeed masterful to overcome such adversity and ill fortune with your emotional leadership and miraculous play calling on the Street of Markham! We will pay you two and one half million dollars per annum!
Houston: You are generous, but not generous enough! I am ever closer to national championships and tall fences!
Act Seven: January, 2004
Houston: Ha HA! One again I have bested the mighty Longhorns from Texas and led us to postseason glory with my appearance in the beauty of Shreveportville!
And yet, the verdant plains of Nebraska beckon me! I yearn! I am torn! What shall I do?
UofA: We are eternally grateful that you have chosen to forsake the Huskers of Corn! Please accept two years, in advance, of lowered expectations of championships and fences! Forgiveness is yours – along with these generous annuities!
Houston: The road ahead is arduous! Nevertheless, we are Builders of Tall Fences!™
Act Eight: January, 2005
Houston: Woe and vexation! The sins of Ted Herrod continue to beset me! How long must I endure this evil?
UofA: Be ever secure in your job, Houston Nutt! You are our blessed son with whom we are well pleased!
Houston: Fear not! Vanderbilt approaches!
Act Nine: January, 2006
Houston: Optimism abounds with Malazahn, Lord of Springdale! He will deliver Mustain, Prince of Springdale, unto me! Ha HA! Mine enemies quail and quake before me!
UofA: You are a clever and wise Builder of Tall Fences!™ And far-seeing! Our gratitude is boundless!
Houston: I will lead mineself to the promised land of national championships and impossibly tall fences!
Act Ten: January 2007
Houston: Brothers, I have called that play! I have been victorious in ten hard fought contests consecutively against enemies of supreme stature! Mine enemies are laid low! Mine appearance in Orlandoburg was filled with glory!
UofA: Ten victories is mighty and good and we are untroubled with the loss of the Princes of Springdale and their unseemly trickery! Curses upon their names!
Houston: Surely, next year will be filled with championships and I will bathe in glory! I am so close!
Act Eleven: January, 2008
Houston: I am undone. Mine enemies have conspired against mine person and no good choices lie before me.
I HAVE DONE MY UTMOST!
Alas.
UofA: Please accept this three and one half million dollars as an enduring token of our gratitude!
Houston: Today, I am a Rebel of Mississippi!
Act Twelve: January, 2009
ColReb: The Swine of Ozark are fools! FOOLS, we say, to allow your unhindered departure! The harvest is abundant!
Houston: I have looted their treasury! I have absconded off with their sons! I have made made mockery of their leaders! I am victorious in failure!
ColReb: Glory returneth to Oxford! Our gratitude is too great to be expressed!
Houston: Ha HA! The Prince of Gainesville lay dead at mine feet! The King of Baton Rouge has paid bitter tribute! Dallastown is conquered yet again!
Act Thirteen: January, 2010
Houston: I am become the Prince of Dallastown with consecutive bestings of the ruffians of Lubboch and the hooligans of Stillwater! This glory is mine forever!
ColReb: This return glory unseen since the reign of Prince Archie has made us weep with joy! Our treasury is open to you and yours forever!
Houston: You are wise and generous! The glory is eternal upon my name!
Act Fourteen: January, 2011
Houston: Traitors and Treasons! Woe and Lamentations! All of mine captains conspire to bring me to humiliations and bitterness!
Hair is torn! Garments are rent! Nails are chewed!
ColReb: This anomaly will soon be forgotten in glory and victory! We stand ready to defend your honor 'gainst all who oppose you!
Houston: Vengeance will be mine! All who have scorned mine glory and whispered upon mine person will pay dearly with bitter pain and ignoble defeat!
Act Fifteen: January, 2012.
ColReb: It is finished.
Houston: I pray you, in your letters, when you shall these unlucky deeds relate, speak of me as I am; nothing extenuate, nor set down aught in malice. Then must you speak of one that lov'd not wisely but too well.