Altee Tenpenny, the highly-touted, highly-coveted and sharply-recruited running back from North Little Rock High School, seems to handle the pressure of recruiting season on Twitter like an expert.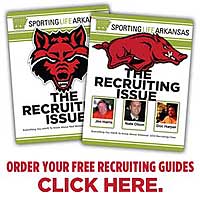 Tenpenny has given his verbal commitment to Nick Saban to play ball in Alabama for the Crimson Tide. Even with that verbal commitment, Tenpenny is still being recruited by Bret Beliema and the University of Arkansas. It should also be noted: Despite the commitment, Tenpenny will be the center of a formal announcement of his college choice on National Signing Day Feb. 6.
@bamafbeast yes sir..!! Been committed for a year

— Cash4x (@Boobie_Miles_22) January 25, 2013
Jim Harris has written a notebook here on Tenpenny's recent trip to Fayetteville, and Nate Olson outlines the reasons Tenpenny is worth the recruiting effort for Bielema, despite the player's current commitment to Alabama.
A couple of additional examples of how Tenpenny is handling himself online through the recruiting process:
If you not family, close friend, or a loyal fan of mine........then your opinion means very little..!

— Cash4x (@Boobie_Miles_22) January 25, 2013
This is MY recruiting process I'm gone do whats best for ME and MY family...!

— Cash4x (@Boobie_Miles_22) January 25, 2013
Former Razorback recruit Kaleb Blanchard, a Denham Springs, La., senior running back, says he was informed he was no longer getting an offer from the University of Arkansas, and he took to Twitter to air out his grievances. Many of the Hog fans who wrote him via the social media service were encouraging and sympathetic with his situation.
When you add the disappointment of a kid who thought he was going to play for one school but now knows he isn't to a Twitter account, you get some interesting insight into the pressure of recruiting season for all concerned.
Too much on my mind

— KalebBlanchard (@KalebBlanchard6) January 22, 2013
I need a job..

— KalebBlanchard (@KalebBlanchard6) January 22, 2013
https://twitter.com/KalebBlanchard6/status/293718449195216897
@ayruegas97 @skywalka3 Arkansas pulled my offer after they told me they would honor it with a new staff coming

— KalebBlanchard (@KalebBlanchard6) January 22, 2013
@ayruegas97 I had tcu and ole miss and tennessee but they can't take me since they filled up, I'm talking to mcneese now tho

— KalebBlanchard (@KalebBlanchard6) January 22, 2013
@kalebblanchard6 Hi Kaleb. Would you follow back? I'd like to DM with you about your commitment. And Happy Birthday!

— Doug Konkel (@DougKonkel) January 29, 2013